I am not going to Bon Odori this year because I'll be in Pangkor Laut then, but I thought I'd post about it for other people who may be interested in going :)
Bon Odori Festival 2009 (Malaysia, Selangor)
Venue :
Panasonic Sports Complex (formerly Matsushita Centre)
Address :
Lot 4, Persiaran Perkilangan, Seksyen 21, Shah Alam, Selangor
Date :
18th July 2009
Time :
5 p.m. to 10 p.m.
Tickets :
Free Admission
Phone :
03-2274 2274 (Japanese Club of KL)
Transport :
Free Shuttle Bus from Shah Alam KTM Station to Matsushita Stadium is provided.
ATTENTION
● Strictly no smoking except for designated areas.
● No high-heels allowed in the dancing field.
● No wearing stuff like Goth lolita and any stuff that are considered not polite. You wouldn't want people to insult your ancestors that way now, would you?
● NO COSPLAYING. Please show respect towards the Japanese culture and tradition.
Malaysia
In Malaysia, Bon Odori Festivals are celebrated every year in Penang and at the Matsushita Stadium in Shah Alam, Selangor. This celebration, which is a major attraction for the state of Selangor, is the brain child of the Japanese Expatriate & Immigrant's Society in Malaysia. In comparison to the celebrations in Japan, the festival is celebrated on a much smaller scale in Penang and Selangor, and is less associated with Buddhism and more with Japanese culture. Held mainly to expose locals to a part of Japanese culture, the festival provides the experience of a variety of Japanese food & drinks, art and dance.
Map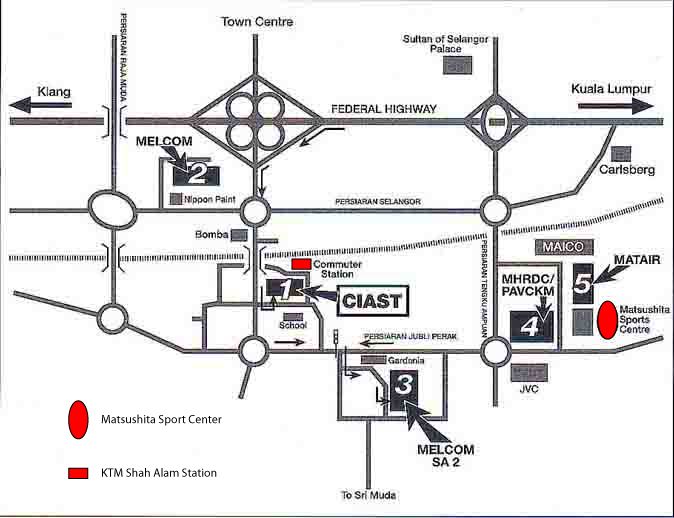 (Info from
Tourism Selangor
)
(Map from
the Comic Fiesta Forums
)
Go
HERE
for a flyer.